Events
Upcoming events:
Nov. 9 through Nov. 23, 2019
Westland Gallery
156 Wortley Road
London, Ontario   N6C 4Y7
More Info…

Previous events:
Sept. 6 through Sept. 28, 2019
Atelier Ludmila
129 -2 Hunter St. W. 2nd floor
Peterborough Ontario  K9H 2K7
More Info…

Venice Abstracted
Solo exhibition, June 2 – June 29, 2017
Rotund Gallery
City Hall 200 King St. West
Kitchener, Ontario N2G 4V6
519-741-2200 X7912
Abstract images of the colours, shapes and impressions of Johnnene's recent trip to Venice, Italy.
call for hours open
Losing Dave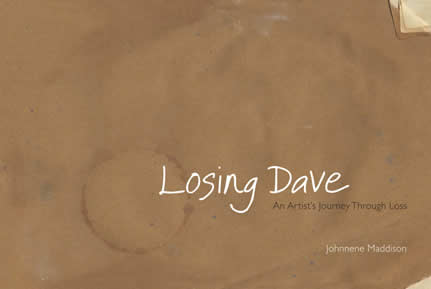 Johnnene's husband, David Falls, passed away from cancer in 2009. Essentially an illustrated journal, this book brings together Johnnene's remarkable works of art and her intimate writing about their seven-year personal journey through what is ultimately a universal story of love, resilience and loss.
Losing Dave, has 74 fully illustrated pages. The illustrations are Maddison's sketches, paintings, mixed media and textile art completed during her husband's illness and for a few weeks after his death.
Available from Brown and Dickson, London Ontario, Oxford Books, London, Ontario, Museum London Gift Shop and Amazon.ca for $20.00 plus tax and shipping.
Articles
December 2014
LONDON FUSE    Art takes time:  Johnnene Maddison    by Pamela Haasen.     Artist Johnnene Maddison talks about painting, travel, guts, loss, experience and learning to not need anyone else's approval but your own.